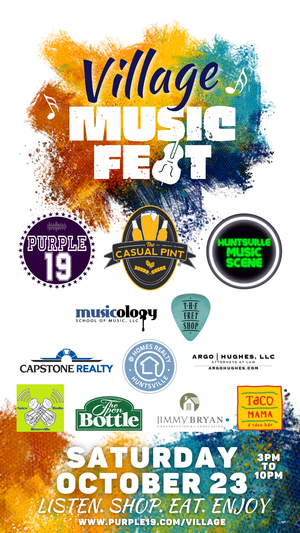 Music brings communities together!
Village Music Fest  @ The Park in Providence 
Listen. Shop. Eat. Enjoy 
Music & Community Festival brought to you by: Purple19, Casual Pint & Huntsville Music Scene 
This family-friendly community event features 13 Musical Artists from North Alabama and Nashville. 
Come out and enjoy live music and experience a welcoming community vibe
among the shops and restaurants in the Village. 
SATURDAY, OCTOBER 23, 2021 
3:00 pm-6:30pm 
The Listening Room experience at Casual Pint features songwriters from Huntsville, Nashville and The Shoals. Sound production by The Fret Shop. 
Casual Pint Listening Room Experience:
(Front Patio) 
3:00 – 3:30 Luke Hill 
3:30 – 4:00 Chelsea, Who? 
4:00 - 5:00 Abigail Virginia, Sarah Johnson, Delaney Faulds – Mini-She Writes – Performers sing in rounds – sharing the stage 
5:00 – 5:30 Preston Watts 
5:30 – 6:00 Chris Garrison 
6:00 – 6:30 Rule of Thirds 
6:30ish Alex Banks to lead folks who are at Casual Pint to the Park Stage 
 
6:30pm-10:00pm 
Full outdoor concert experience at the Park at Providence Town Center Green featuring award-winning artists from Nashville and Huntsville. Sound production by Spice Radio. 
Park Stage  
6:35 – 7:05 Seeking Babylon  
7:15 – 8:15 Little and the Giants  
8:30 – 10:00 Fireball Mail
Do I need a ticket? 
Nope! This event is free, thanks to our wonderful sponsors! You have the opportunity to purchase MERCH and tip the bands HERE.
COMMUNITY EVENT SPONSORS: 
The Casual Pint
Taco Mama 
Musicology 
Capstone Realty
Argo | Hughes, LLC 
Jimmy Bryan Construction 
The Open Bottle 
The Fret Shop 
Spice Radio 
Huntsville Music Scene
Purple19 * Building community through live music in Huntsville, Alabama. 
www.Purple19.com